Looking for the best affiliate programs and networks?
Bingo, you found it.
I've been making a living from affiliate marketing for about 15 years now (story here).
Over time, I've used and tested dozens of different affiliate programs and networks.
Let me tell you.. not all deserve your precious time.
In this post, you'll find a comparison of all the best affiliate networks, and reviews based on my personal experience with them.
Finding the best affiliate networks
Affiliate marketing is a great way to make passive income, no doubt about that.
But it takes a bit of time to get started.
With enough work, you will eventually succeed as an affiliate marketer.
Interesting fact
Affiliate marketing is becoming very popular. In the US alone, it's expected to reach 8.2B in 2023, which is more than triple compared to a decade ago.
The worst mistake you can do is sign up to affiliate programs that just doesn't deliver.
One of the biggest hurdles in affiliate marketing is finding trustworthy affiliate networks that have advertisers with products you would like to promote.
Unfortunately, not all affiliate networks are honest, keeps up with their payments, and have stable tracking.
The worst nightmare for us affiliate marketers is to end up not getting paid (happened to me a few times).
Luckily, for you, I've done a lot of the hard work. In the last 10 years, I have tested more than 250 affiliate networks, affiliate platforms and affiliate programs.
I'm here to share that wisdom, and hopefully, help you find the best affiliate programs & networks right from the start so that you don't have to waste your time on low quality affiliate partners.
In case you first want to learn more about affiliate marketing:
Affiliate marketing for beginners
If you're still a newbie and want to learn the affiliate game, then check out how to get started in affiliate marketing as a beginner.

You can also jump right into my affiliate marketing course (currently free) teaching you how to create your first affiliate website in 7 simple steps.

I frequently share insights on affiliate marketing on my Instagram as well.
List of affiliate networks & programs
Find most of the world's best affiliate companies in the list below – ranked by users themselves. The first table contains the best affiliate networks, followed by a second table with affiliate programs.
Both tables are regularly updated and mostly based on my experience from the years 2019 to 2023. It will get updated with new affiliate programs and networks continuously.
* The table is sorted by user votes. If you have used an affiliate network and had a positive experience, consider giving it a thumbs up.
Best affiliate networks 🏆
Below you'll find a list of the best affiliate networks.
Best affiliate programs 🏆
Below you'll find a list of the best affiliate programs.
Reviews of the 12 best affiliate networks & programs
The best affiliate marketing programs of 2019-2023 and my own personal favorite affiliate networks are listed below. Click to read the reviews.
1. CJ Affiliate (formerly Commission Junction)

Best affiliate network for beginners
CJ is probably the biggest affiliate network, having thousands of affiliate marketing programs to choose from, that is kinda known worldwide. The dashboard itself is relatively easy and grabbing links isn't too much of a hassle either.
CJ offers the best affiliate programs for beginners due to its simple registration process and the large variety of brands, products, and services to promote.
Worth knowing
The major downside is the lack of any customer support – you'll need to dig deep in order to actually find answers to your questions and it can be pretty frustrating, especially if you have some urgent issues. And their reports are infamous for lagging, so you can expect to encounter some technical difficulties now and then.
CJ is one of those affiliate companies that really need to invest a bit more in their support.
Affiliate programs
As for the actual programs they have, the selection is so wide you can find pretty much anything there. Sports, travel, health, family, business, gifts, games – whatever you need, you'll find a good program for it from CJ.
📍 Markets
CJ is global and they facilitate transactions in more than 150 countries, so it's very likely your country is one of them.
2. Amazon Associates Program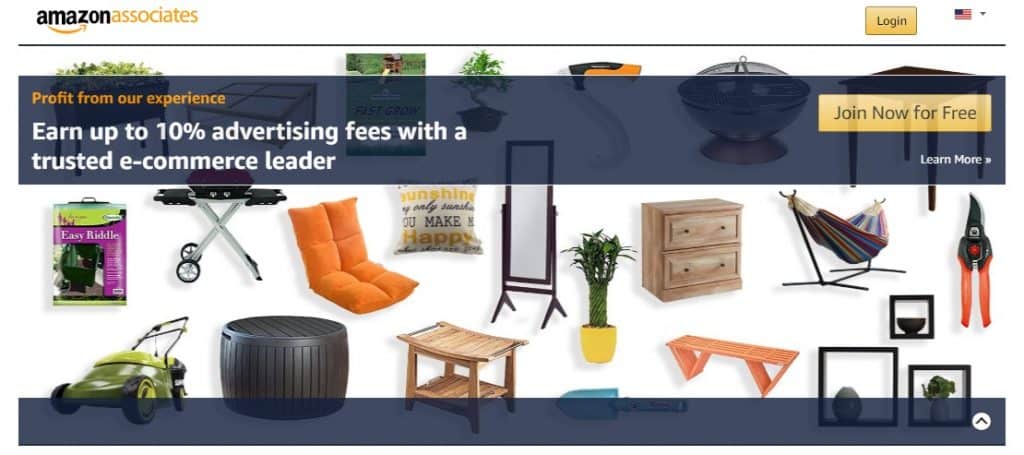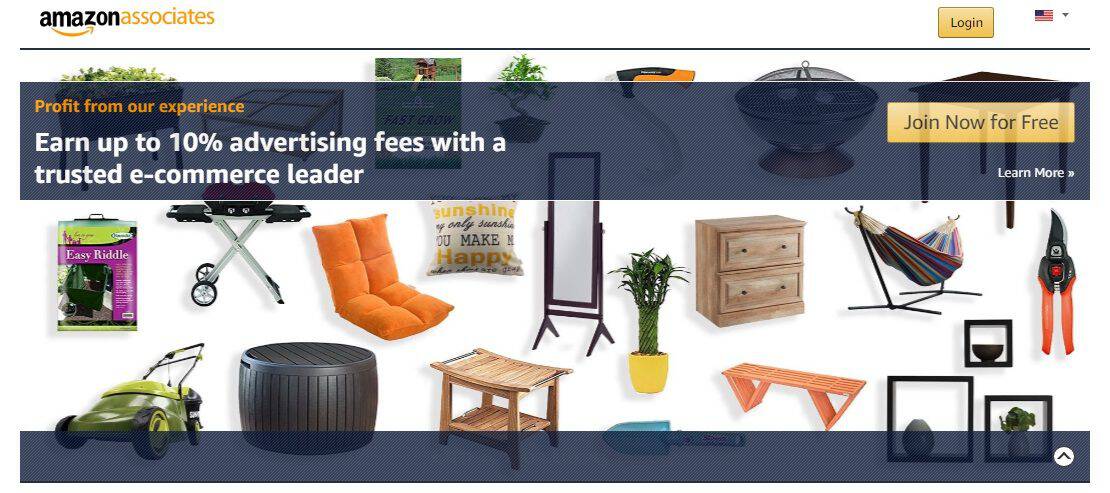 Biggest range of affiliate products
Amazon is not a new name for most people and their Associate's Program is one of the most popular monetization options for most USA-based affiliate websites since Amazon is the most popular shopping site in the country. If you're from the USA, you'll probably want to sign up for Amazon's affiliate program.
Worth to know
Since Amazon is so huge, they have far stricter restrictions. They just have a 24-hour cookie and there are tons of things you can't do or you'll be kicked out of the program – for example, you can never mention prices in your text and you can't use Amazon photos (or any other product photos really) if you are not using Amazon's own API.
Amazon is also not known for their high commissions.
📍 Markets
Technically, anyone can sign up. Ten other countries besides the USA have their own storefronts and separate Associates Programs: Canada, Brazil, France, Germany, Italy, Spain, United Kingdom, China, Japan, and India.
Even if you're located outside of those countries though, you can still sign up. Amazon ships products everywhere, just with certain limitations (and not all products can be shipped).
3. Awin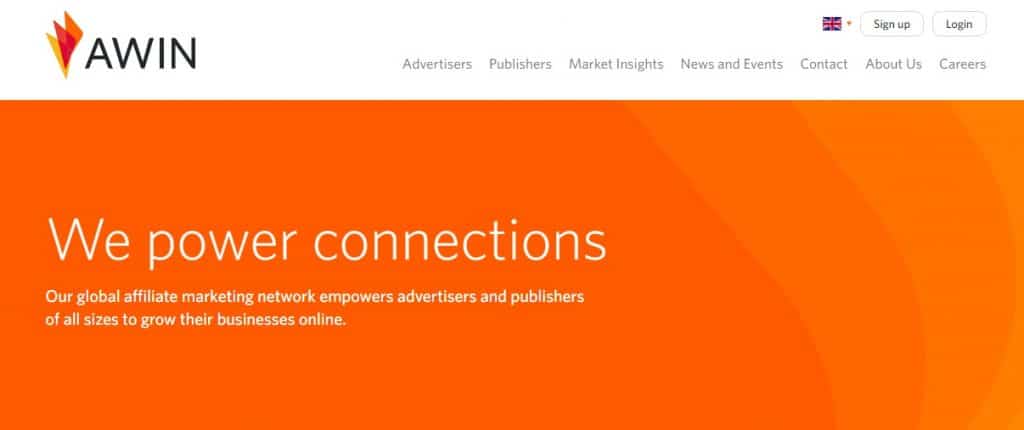 Affiliate giant in Europe
Awin might be better known for some as Affiliate Window – Awin network combines together Affiliate Window and Zanox networks. With more than 6000 advertisers they are one of the biggest networks in Europe. Their selection is a little more condensed though as they primarily focus on 4 categories: finance & insurance, retail & shopping, telecom, and travel.
📍 Markets
Australia, Austria, Belgium, Canada, China, Czech Republic, Denmark, Finland, France, Germany, Hungary, India, Ireland, Italy, Japan, Netherlands, New Zealand, Norway, Poland, Portugal, Russia, Singapore, South Africa, Spain, Sweden, Switzerland, Ukraine, United Arab Emirates, United Kingdom, and the USA.
4. ShareASale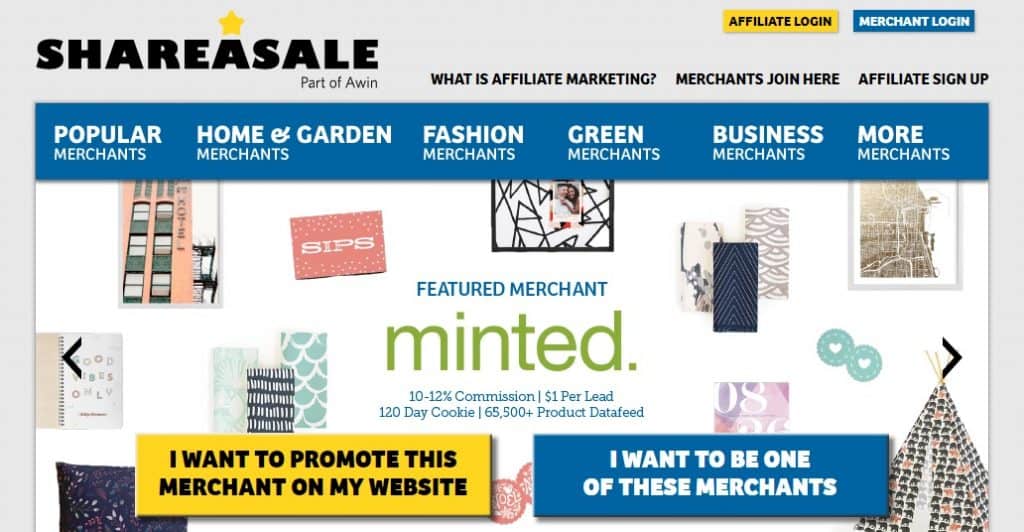 One of the biggest networks worldwide
No affiliate network list would be complete without this giant of a network. ShareASale is without a doubt one of the biggest affiliate networks in the entire world. They have an impressive selection of affiliate programs (and by impressive we're talking about thousands of affiliate programs), ranging from home & automotive products to education.
Affiliate programs
Basically, whatever you want to promote, there's probably a fitting affiliate program in ShareASale.
Since ShareASale is US-based, most of its programs are also targeted towards US customers. Another con is the lack of customer support. They do have a help desk but don't expect to receive help from a personal affiliate manager.
📍 Markets
As mentioned, most programs are tailored more for North American clients, but ShareASale accepts members from all over the world. Here's a complete list of all the countries they accept. When applying for affiliate programs, just make sure the program offers products that can be shipped or used in your country too.
5. Adtraction

High quality network for Scandinavia
Adtraction is the biggest and the best affiliate network in Sweden and other Nordic countries. Having cooperated with them for almost 10 years, they've always had stellar service and timely payouts.
Adtraction is very keen to help you grow, negotiate better commission for you, and always there to help when you need support.
I personally love Adtraction, and making most of my sales from this affiliate platform.
Affiliate programs
The program selection is not too shabby either. They make sure to only offer the highest quality affiliate programs. Financial services have the biggest weight there, but you can find offers for just about anything, starting from clothing and ending with insurance or interior products (though other categories are rather thin in comparison to finance products).
📍 Markets
Belgium, Croatia, Czech Republic, Denmark, Finland, France, Germany, Mexico, Netherlands, Norway, Poland, Portugal, Slovakia, Spain, and Sweden.
6. Adservice

A reliable network with plenty of functionality
Adservice is one of the most reputable affiliate networks in Europe – they have over 4000 publishers and over 1000 campaigns. Beyond that, they collaborate with various trustworthy brands and have a relatively simple dashboard, so using the platform shouldn't be much hassle for beginners either.
To top that off, payouts are timely, they have loads of different tracking tools and their affiliate managers are friendly and helpful. It's pretty much the full package for any starting affiliate marketer!
📍 Markets
Denmark, Norway, Sweden, Finland, Germany, USA, Russia, United Kingdom, France, Spain, and Poland.
7. Adrecord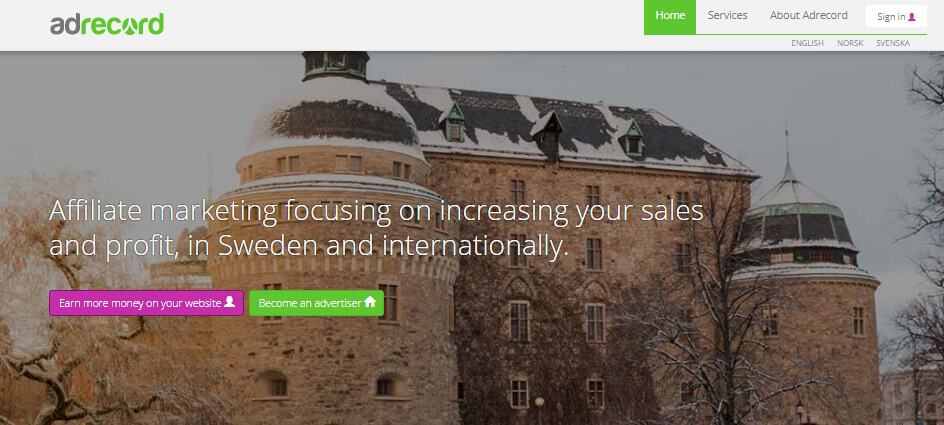 Remarkable support
Adrecord is based in Sweden and excels with its modern dashboard. Their selection is the biggest for Sweden – altogether you can find 255 different programs, ranging from beauty and clothing to sports or home & interior. The payout limit is 500 SEK and they will pay on the 15th of every month. Adrecord offers remarkable support to its affiliates.
Adrecord has a big focus on fashion and shopping but offers many affiliate programs in other categories as well.
Personally, Adrecord is one of my favourite affiliate platforms.
📍 Markets
Sweden, Norway, Denmark, and Finland.
8. Digital Advisor

Young network in Denmark
Digital Advisor is a pretty new affiliate company, having worked in the Danish market for 5 years. They have a remarkable selection of programs for Denmark (and a few other countries) – you can find anything from finances and e-commerce offers to travel services. Altogether they have around 300 different programs to choose from. As an extra perk, you'll also have a personal affiliate manager.
📍 Markets
Argentina, Poland, Norway, Denmark (their main market), Sweden, Spain, and Finland.
9. DoAffiliate.net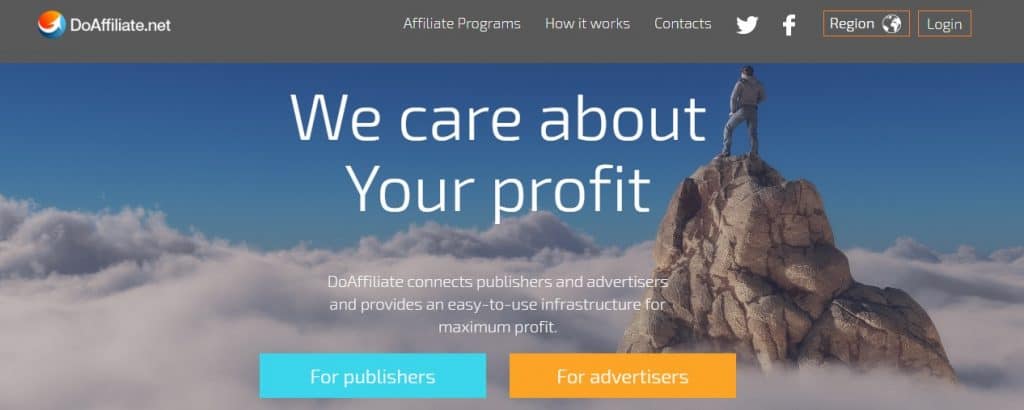 Network focusing on financial programs
DoAffiliate.net, which is created by a Latvian company, is completely focused on financial products, but also has some health-related programs. In fact, they've even said that finance is their specialty. If there's one downside to using DoAffiliate, it's their relatively clunky reporting system which can take some getting used to.
DoAffiliate is definitely one of the best affiliates sites for financial programs.
📍 Markets
Latvia, Lithuania, Poland, Spain, Finland, Estonia, Czech Republic, Russia, Georgia, Mexico, Bulgaria, Romania, Ukraine, Kazakhstan, Argentina, Dominican Republic, Colombia, Indonesia, Sweden, Denmark, and Panama.
10. Tradedoubler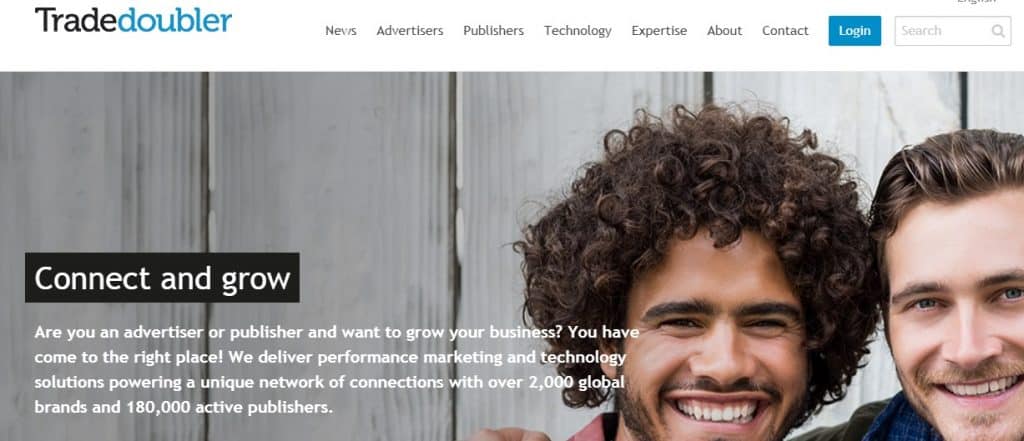 An old giant
Tradedoubler has a long history and their reach is huge – over 2000 brands. If there's one downside to using Tradedoubler, it's the dashboard which is a little clunky and not as functional nor modern as you might wish. Tradedoubler is known for not staying up to date with its user interface, and the support is not the best.
However, they still have a huge portfolio of high-quality affiliate programs.
📍 Markets
Argentina, Australia, Austria, Belgium, Brazil, Chile, Colombia, Costa Rica, Czech Republic, Denmark, El Salvador, Finland, France, Germany, Honduras, Hong Kong, India, Indonesia, Ireland, Italy, Lithuania, Malaysia, Netherlands, New Zealand, Norway, Panama, Paraguay, Peru, Philippines, Poland, Portugal, Russia, Singapore, Spain, Sweden, Switzerland, Thailand, United Kingdom, USA, and Vietnam.
11. LeadGid

Financial programs for eastern Europe
LeadGid is based in Estonia but has its roots in Russia which you can also notice on their platform since some text might be in Russian. They are very specifically tailored to financial products though they have some other categories featured as well. However, finance products are their bread and butter.
LeadGid stands out for exceptional support from affiliate managers and quick, timely payouts. Not once have they missed any payment amounts and they always pay almost on the same day after sending them an invoice. The payout limit is also fairly small – 50 euros.
📍 Markets
Latvia, Lithuania, Poland, Czech Republic, Denmark, Spain, Finland, Estonia, Georgia, Kazakhstan, and Russia.
12. DoubleResults

Network for the Baltics
Estonian based affiliate network DoubleResults is fairly small, but they have friendly and supportive customer service and timely payments each month – they have never missed any payments and everything runs smoothly. Also, they don't have any payout limits.
Similarly to many others, they are focused on financial products, but they offer some e-commerce programs and they have an affiliate program themselves too.
📍 Markets
Estonia, Latvia, Lithuania, Poland, Finland, Denmark.
Best affiliate programs by markets & niches
To help you further, I have made the top 3 lists sorted by markets and niches.
Best networks by market
🇺🇸 United States (US)
The US has the largest pool of affiliate networks and programs. There are many good ones. These are the best affiliate networks for the US market according to my experience:
List of affiliate networks for the US
🇬🇧 United Kingdom (UK)
My experience of affiliate marketing in the UK is limited. Here are some affiliate networks that I know operate in the UK.
List of affiliate programs for the UK
🇪🇺 EU/Europe
Europe has the best quality support and most high-tech networks and programs when it comes to functionality. It's difficult to rank them, but here is the list:
List of top networks for Europe
🇸🇪 Sweden
Best affiliate networks for Sweden:
List of the best affiliate networks for Sweden
South East Asia
Best affiliate networks for South East Asia:
List of networks for Asia
Best networks by niche
📊 Finance programs
Personally, I have a lot of experience with financial affiliate programs, since this is our main project. Here's my top 3 for finance:
✈️ Travel programs
Affiliate programs for the travel niche:
🍏 Health programs
Affiliate programs for the health niche:
📚 Education programs
🔧 App Development programs
| Rank | Affiliate network | Visit |
| --- | --- | --- |
| #1 | Shoutem | Sign up |
| #2 | | |
| #3 | | |
The 3 biggest affiliate networks
Who are the biggest affiliate networks? Well, it's not completely clear, but I did some research and found some data to give you an idea.
Here's the top 3:
| Name | Advertisers | Publishers | Revenue | Countries | Employees |
| --- | --- | --- | --- | --- | --- |
| CJ | 2 900 | est. 10m | 168m | 177 | 755 |
| Clickbank | 4 000 | ? | 201m | 195 | 347 |
| Awin | 16 500 | 225 000 | 182m | 180 | 1000+ |
A table of the biggest affiliate networks globally.
I didn't include Amazon in here as it's more of an affiliate program – not a network.
Trust & reliability – use only the top affiliate networks
It's never easy to know if an affiliate company is trustworthy and reliable. There's a lot of scams going on in this game.
Personally, I have been unfortunate multiple times and picked a bad card:
In one case, the network declared bankruptcy, leaving me with almost €30,000 unpaid affiliate commissions. Ouch.
Countless time I've discovered that tracking was not working. Networks who let that happens for long periods of time are a big no.
Multiple smaller networks have just shut down unexpectedly. Sometimes they paid out, sometimes they didn't.
So how can you avoid something like this from happening?
My advice is to just stick with the top affiliate programs. Big brands who have a great reputation and high quality advertisers. Avoid overly high paying programs – if something sounds too good to be true, it usually is.
When it comes to networks, you can experiment more (networks have fewer reasons to scam you compared to specific affiliate programs), but don't rely too much on the smaller unknown affiliate networks for the majority of your revenue.
Focusing on the biggest and best affiliate networks will definitely be the easiest way to reduce risk.
Build passive income with affiliate marketing programs
Hopefully this list of affiliate networks and programs helped you to find some products and services that you want to promote.
All you need to do now is choose an affiliate marketing program, get approved to it, grab the affiliate link and start making some passive income.
I've been living on passive income from affiliate marketing for about 15 years now.
It took a lot of hard work and patience to get here, but today I'm really living my dream, making more than 6 figures per month, solely from my affiliate projects.
I've created a course for people who wants to learn how to make money with affiliate marketing and become full time affiliate marketers, without doing all the beginner mistakes I did. Completely free.