Last Updated on
So, you want to start earning money online?
Affiliate marketing is one way to do it.
It's actually becoming quite a popular choice among people looking to create a passive income, and it's easy to see why that is.
It's a simple concept to grasp, it requires almost no capital to get started, creates freedom of location, and the income-roof is limitless.
Merchants are offering greater opportunities to earn money through affiliate marketing than ever before. There's literally affiliate programs for everything.
So yes, even though there's a lot of competition, it's still a great time to get in the game as a beginner.
But, the main question I'm sure is on your mind: how to start affiliate marketing?
Well, this post is all about affiliate marketing for dummies, so you're definitely in the right place to find the answers you need.
Affiliate marketing 101 – The basics for beginners
💡  What is affiliate marketing?
One word: mediation. You tell someone to buy a product or service from a company that you recommend, whether it being offline or online.
Affiliate marketing in a nutshell: 
a way of earning a commission by selling another brand's products or services.
based on a revenue-sharing concept.
is a well-tested model that offers profitability for all parties.
💰 How do you get paid?
You get paid when people coming from you takes an action on the advertiser's website. There are three pays to earn money as an affiliate marketer:
Commission models:
Pay per Sale (PPS): Earn a percentage of the sale.
Pay per Click (PPC): Get paid for the number of visitors you send to the merchants website (regardless if a sale is made or not).
Pay per Lead (PPL): Get the customer to visit the merchant's website and complete the desired action. For example, subscribing to a newsletter.
All three ways can generate a decent income and serves their purpose. Which one you should focus on depends on your industry and visitor behaviour.
👨‍💻 Why become an affiliate marketer?
So, before we delve into the realms of how to become an affiliate marketer, lets first touch on why you would want to become one.
There's some real nice upside to making a living through affiliate marketing. In a way, it's dream career for many people.
Why start an affiliate marketing business: 
You can actually generate a passive income.
No limits or restrictions. No scalability dilemmas.
Location independence. You choose from where you want to work.
Flexibility. You choose with what niche you want to work, or how you want to work.
Limited start up costs. You actually don't need more than €30 to get started.
I actually wrote a longer post about why you should consider affiliate marketing here.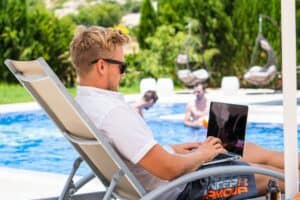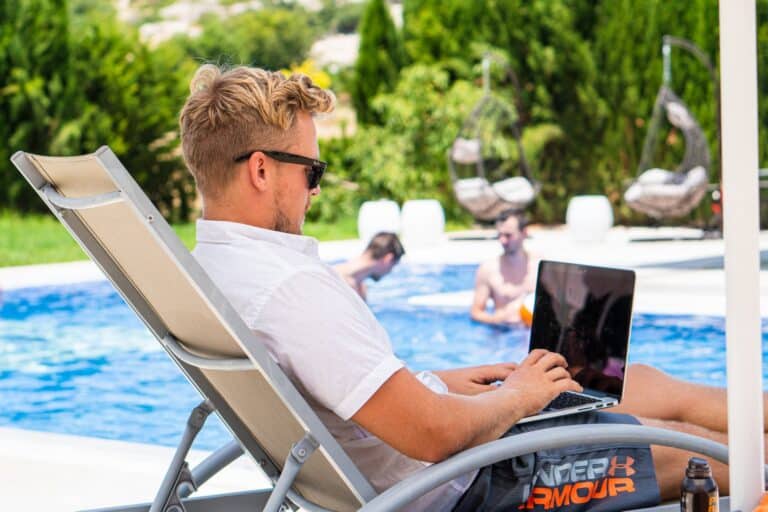 How to get started with affiliate marketing (3 steps)
Now, we have covered the affiliate marketing for dummies part, its time to concentrate on the main topic: how to start affiliate marketing.
Anyone can become an affiliate marketer. Because as I mentioned, you don't need a lot of money to get started, so there's no excuses when it comes to start-up capital.
However, there are a lot of pitfalls in this business, and taking too many detours will lead you to frustration and loss of motivation before you reached that success.
Here are 3 steps on how to become an affiliate marketer:
1.  Join an affiliate network
Finding a decent affiliate network or program is important when starting out as an affiliate marketer. Some affiliate networks are better than others, so always do your research.
Here's the top 5 (biggest) affiliate networks:
📃 See the complete list of affiliate networks (50+)
After signing up to an affiliate network, you'll be able to browse through the different products and services available to affiliate with. You will see what companies are offering as a commission percentage and what you can expect to get for PPS, PPC or PPL.
Depending on your chosen niche, some networks will more relevant than others. I would recommend doing your research and seeing what works best for your target audience.
2. Find a specific brand, product or service that you want to work with
There's hundreds of thousands of products and services, so today, you can literally find affiliate programs for anything.
Now, all you have to do is figure out what products you want to promote.
So, how do you know what products you should promote?
Well, there's no easy way to tell, and many factors are involved.
Here a few things to keep in mind:
→ Something you have passion for. When starting out as an affiliate marketer, I would recommend becoming an affiliate for a product or service that you resonate with and have some level of passion for. If you have an interest in the thing you're trying to sell, it's more likely to come across in your marketing message.
→ Expertise is a big plus. It's a big upside if you have experience with the product, or expertise about the topic. Trying the product or service first hand will ensure that you can speak honestly about your own experience, and it will add credibility to what you're saying. It will also build a sense of trust with your audience and potential customers. This is harder to do if you have no prior experience, but of course, still doable.
→ Niched topic. The more niched products, the easier to sell them. If you go broad, you'll have a more difficult time to convert your visitors into money. Niched products do have a big advantage.
(You'll also need to make sure you can actually sell this product online. Luckily, in 2020, there's not many products or services not being sold online, so barely worth mentioning).
Once you find the products or services:
Create a website or other media around your niche (the products or services you're going to promote), and add it as a channel to the affiliate network. Although creating a website is a fairly simple process today, we're not going to explore that in this post (this might help get you started).
Apply to become an affiliate for the company. This process is different for each network, but generally, you should be looking for a "Join" button. Sometimes, it takes a few days to get approved.
If you get accepted, you will receive a unique code or link which is known as your affiliate link. This is added on your website where you want to promote it, and you're basically ready to go!
3. Generate customers and earn a percentage
The final step is all about getting customers, making sales and earning that passive income.
That means, you need to figure out how to get traffic to your website. Of course, that's not always easy.
But with sustained efforts for a longer time, you'll slowly build up your audience, and start getting sales.
Here's 3 basic tips for getting traffic:
→ Learn SEO. Standing for search engine optimization, it's basically the art of making your website rank high in Google. If you can make your site rank on relevant keywords to your niche, then you'll have plenty of sales coming in and converting will be easy.
→ Get social. Advertise your website on social media. Publish valuable content around your topic to get people curious and want to visit your website (and ultimately interested to buy your products).
→ Share content. Become a content creator overall, and create content elsewhere. There's dozens of ways to contribute: write guest posts, post in forums, comment on blog posts, upload videos to Youtube and more.
3 tips to succeed as an affiliate marketer
I have been working with affiliate marketing for over 12 years now. So I do have the knowledge and experience, and have decided to share it with you!
It's my goal to see people succeed with affiliate marketing, just like I have.
Like most things in life, I believe mindset is key to achieving. But, aside from that obvious tip, here are 3 tips I would give anyone thinking about giving affiliate marketing a go:
1. Affiliate marketing is easy – don't overcomplicate the process
It's actually really easy to get started as an affiliate, don't over complicate the process.
The truth is, most people never start because they think it's too hard. It's not really that hard.
What's hard is be resilient enough to keep working hard for at least 3-6 months, to see good results.
2. Promote affiliate products you know
Understand and believe in the product or brand you are promoting. Really get to know your target audience, how best to get through to them and what makes them what to purchase what you're offering. Spend time doing this research and analysing user behaviours.
Having an audience who have a connection to your content means they are more likely to purchase the stuff you recommend.
As an affiliate marketer, it's your goal to become an authority figure on the products you intend to promote.
3. Be realistic about what affiliate marketing is
Building an affiliate marketing business has the potential to generate a sizeable passive income stream with great opportunities to scale and expand into something huge.
But also, it is important to understand that affiliate marketing is not a get rich quick scheme, and income is not always stable. You can get successful, but it will take a lot of time.
You need to be mentally prepared to put in the time, have patience and work hard.
Affiliate marketing course – 7 steps to get started as a full time affiliate
Thanks for reading. This was a very simplified post on how to get started with affiliate marketing as a beginner, and doesn't even begin to cover all the things you need to know to become successful.
I do want you to become successful, so if you have the same goal, keep on reading.
Today I am making more than a 6 figure income per month, solely from my affiliate projects. And yes, you can too.
But lets be honest: it's gonna take you a while to get there – there's no doubt about that.
However, there's no need to take unnecessary detours. I mean, it took me almost 10 years, mostly because I didn't know where to focus.
Luckily for you, I've created an affiliate marketing for beginners course, explaining how to get started on a more practical level in 7 simple steps, and what's important in this game.
The course is free, you don't need to enter any card information and you can sign up in a few clicks using Facebook.
What you can expect from the course
Introduction to affiliate marketing
The reality of being an affiliate
Choosing your niche – practical guidelines
Buying a domain and hosting in 5 minutes
Setting up your own site with WordPress and configuration
Content writing 101
Finding affiliate products and getting your first sales
If you want to get involved and start the course today, click here to sign up.