Since I've been living on the island for a few years now, I feel it's time to write my perspective on living in Cyprus as an expat and online entrepreneur.
I lived in Malta for 5 years before relocating to Cyprus. Malta is a beautiful island, and I loved spending so many years there, but over time, it became too crowded for me.
Cyprus being an island 40x larger than Malta, numerous beautiful beaches and reasonably priced luxury villas, contributed to the choice of switching my base to Cyprus.
Moving to Cyprus was a really good choice. Personally, life in Cyprus is just perfect for me.
In this article, I'll explore why living in Cyprus has its advantages, some disadvantages, and give you a bit of background info about the island.
Cyprus is becoming a popular choice
Cyprus is becoming more and more popular among the digital nomad and online entrepreneur community.
Lately, we have seen a lot of entrepreneurs and expats making their move to the island.
And it makes sense.
A paradise island located in the eastern Mediterranean sea with low taxes, simple company structure, part of the EU, growing communities and good transport links to the rest of Europe and the Middle East, Cyprus really does tick many of the checkboxes for most entrepreneurs.
I believe that Cyprus is going to continue to bloom the coming years, as the world is moving towards a remote-based work setup, and more people realizing it's not that difficult to move abroad.
To create an optimal life in Cyprus, you should learn more about the island. Knowing the right places and the right people can make your move considerably easier.
So whether you are already living in Cyprus and want to learn more, or thinking about moving to Cyprus, this article is worth a read.
Cyprus is an island located in the eastern Mediterranean Sea with a population of approximately 1.2 million people. The main language is Cypriot Greek, but English is also commonly spoken. Due to its tax benefits, warm weather, and stability of being inside EU, it attracts many expats and businesses.
Why living in Cyprus might be for you
Cyprus is the third largest island in the Mediterranean Sea. With a population of around 1.2 million, and almost 22% of the islands population being foreign nationals or expats, it's clear that life in Cyprus has a lot to offer.
1. The beaches in Cyprus are amazing
There are many beautiful beaches across the island and it is definitely one of my favourite parts of Cypriot life. As of 2019, Cyprus offers 49 blue-flagged beaches with many of them being ideal for water-sports, such as jet skiing, wakeboarding and water skiing.
Also, on the west of the island in the Paphos region, there is often a westerly swell which is good for surfing. There are also ample diving opportunities with Cyprus offering many memorable dive sites such as the Amphorae Caves and the MS Zenobia wreckage.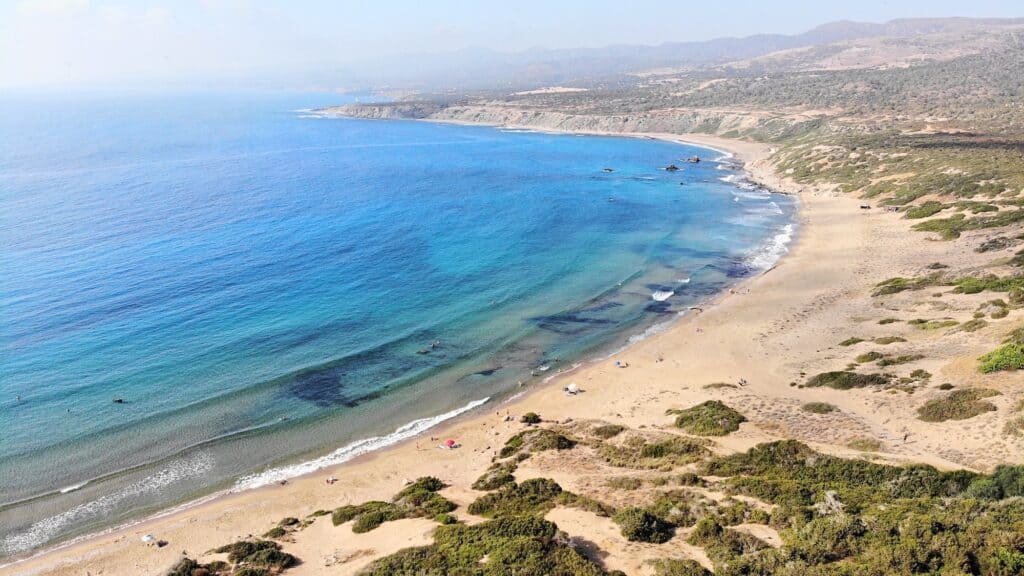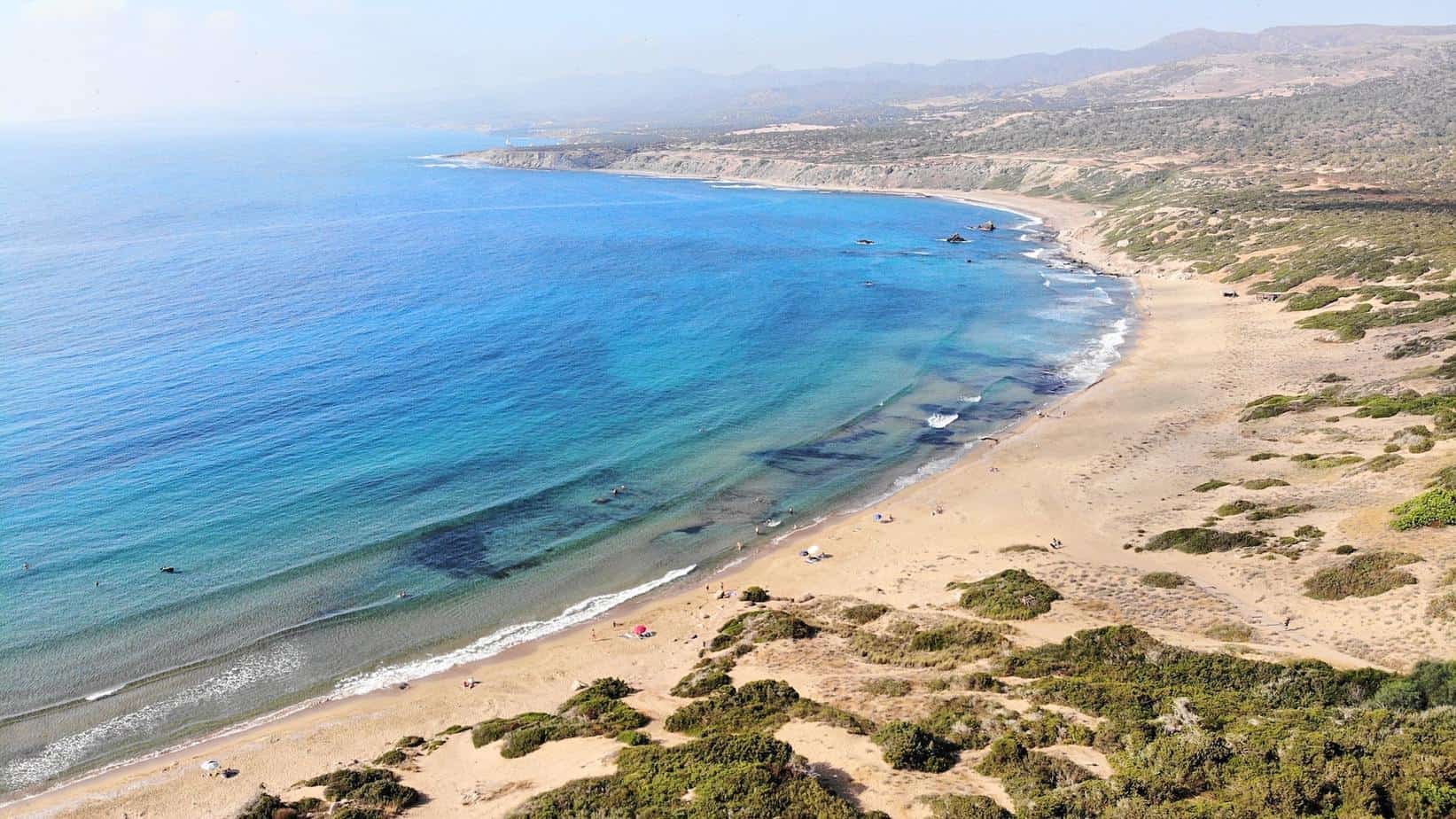 2. Cyprus is an EU state
As Cyprus is part of the European Union, the country has free access to the single market and customs union. This means that the island offers the same rights as any other mainland European country.
Also, with the Cypriot currency being the Euro, there are more opportunities for exchange and greater integration of financial assets.
3. Best weather in Europe
The Cypriot way of life is very Mediterranean and the weather is too! The all-year round hot weather is another attractive feature of the island.
Cyprus has one of the warmest summer and winter climates in the Mediterranean. On average, the annual temperature is between 25°C in the daytime and 15°C in the night.
During the summer months, especially July and August, the island gets very hot! With an average coastal temperature of 30°C during the day and 23°C in the evening.
The weather can get a little uncomfortable during the summer months, especially if you are from a cold, wet and rainy European country like myself. But most months of the year offers very comfortable temperatures:
| Month | Day °C | Night °C | Water °C | Sunlight Hours |
| --- | --- | --- | --- | --- |
| January | 17 | 8 | 18 | 5 |
| February | 17 | 7 | 17 | 7 |
| March | 19 | 9 | 17 | 7 |
| April | 23 | 12 | 18 | 9 |
| May | 27 | 16 | 20 | 11 |
| June | 30 | 20 | 24 | 13 |
| July | 32 | 22 | 26 | 13 |
| August | 33 | 23 | 27 | 12 |
| September | 31 | 20 | 26 | 11 |
| October | 28 | 17 | 24 | 9 |
| November | 23 | 13 | 22 | 7 |
| December | 18 | 9 | 19 | 5 |
4. Low cost of living
Is it expensive to live in Cyprus?
Not at all.
Overall, the cost of living in Cyprus is fairly low compared to other European countries. Due to being an island and the need for import, there are some things which are more expensive, for example, cars. So this needs to be factored into your budget when thinking about moving to Cyprus.
An average cost for a meal for two on the island would set you back around €25-30. If you are a fan of Greek and Middle Eastern food, you will find many traditional tavernas which offer good quality food for reasonable prices.
From Expatistan, Nicosia and Limassol are the two most expensive cities on the island. Despite this, results show that the cost of living in Nicosia is around 28% cheaper than in Stockholm.
5. The people of Cyprus are nice and warm
The people of Cyprus are known to be very friendly and accommodating to foreign nationals living on the island. Cypriots are very loyal and have a love for food, traditions and their cultural heritage.
From my experience, Cypriots are well educated and often speak fluent English. When living in Cyprus, I would recommend mixing with the local population in order to experience the Cypriot way of life to its fullest!
6. Low crime rate
Is Cyprus safe?
Yes, even though Cyprus has been divided since 1974 and despite the tensions between the Turkish Cypriots and the Greek Cypriots, it is still one of the safest European countries to live.
According to Numbeo, there is a significant low crime rate on the island compared with other European countries and high safety rates.
7. English is widely spoken
What languages do they speak in Cyprus?
The official languages of Cyprus are Greek and Turkish, but English is widely used across the island. All road signs, restaurant menus and Government documents are available in English and as Cypriots learn English in school, there isn't really a language barrier in the country.
Due to many online entrepreneurs moving to Cyprus, the nomad hubs are becoming more multilingual with large numbers of Germans, Scandinavians and Russians all living and working in the country.
This means you often hear a lot of different languages, especially across the entrepreneurial hotspots of the island and during networking meetups.
8. Low taxes
Is Cyprus a tax haven?
Well, yes and no.
Tax havens are known to grant nationals an opportunity to pay a lower rate of tax compared to what they would in their native countries.
And Cyprus would probably look highly beneficial compared to other countries when it comes to the overall tax pressure.
Being a non-domicile in Cyprus, you can apply for a tax exempt which includes dividends.
Becoming an hub for business and finance has always been a priority for Cyprus, especially since the countries divide in 1974. The country still relies heavily on its tourism industry, though the country offers an attractive tax incentive for entrepreneurs from around the world.
There have been many changes in the Cypriot tax structure over the years. However, there are still many benefits of being tax registered in the country.
If you need help setting up your tax residency in Cyprus, you can contact me.
Corporate Tax
The corporate tax rate is currently at 12.5% and applies to all Cypriot resident companies. But, there are some exemptions. Dividend income, interest income, excluding income derived from the business and foreign exchange gains (with some restrictions) are exempt from corporate tax.
Like many other countries, there are also deductible expenses including interests acquired and business expenditures.
Income Tax
With regards to personal income tax, dividends and interest income are also exempt from the personal income tax in Cyprus. However, to be eligible for tax residency in the country, you have to spend more than 183 days in Cyprus to be granted the tax resident status.
Nevertheless, there are other ways to gain Cypriot tax residency status, for example owning or maintaining a property on the island.
The standard VAT rate in Cyprus is 12%, yet reductions to 9% and 5% are applicable in some cases.
Another benefit of Cyprus is their personal information safeguarding laws. Personal information and details are only shared with local banks when you open an account. These banks are not obliged to share this information with any third parties or organisations outside of Cyprus.
Income tax is divided into different brackets, depending on your income:
| Bracket | Annual Income | Percentage Rate |
| --- | --- | --- |
| 1 | up to €19 500 | 0% |
| 2 | €19 501 – €28 000 | 20% |
| 3 | €28 001 – €36 300 | 25% |
| 4 | €36 301 - €60 000 | 30% |
| 5 | €60 001 and over | 35% |
| Rates: Europa.eu | | |
Other things you need to know about Cyprus
Divided island since 1974
The island of Cyprus is split into two; Northern Cyprus, which is Turkish controlled and the South, which is known as the Republic of Cyprus. The two areas are divided by a border region which cuts through the islands capital, Nicosia.
It is possible to cross the border, however there are strict passport and vehicle checks before crossing.
I live myself in the Republic of Cyprus, which is the South part of the island. Most people move to this part as it's part of the EU and considered the "real Cyprus".
Housing situation
House prices in Cyprus vary depending on the city, but overall, the real estate market is quite good for both renting and buying.
Although, similar to other European countries, the Cypriot house prices have been going up.
However after the pandemic, we are seeing a decrease in both rentals and sales. This is based on experience from my own house hunting, but you can also see that from checking the house price index.
The most affordable villas can be found around Paphos region. Due to a lot of space in this area, you're able to find really large plot villas surrounded by nature.
To find a property, I suggest to contact an agent who will search based on your requirements. Unless you're looking for something very unique, you'll usually find a place and move in within a few weeks.
If you're looking for good real estate agents, I can share my contacts. Send me an email.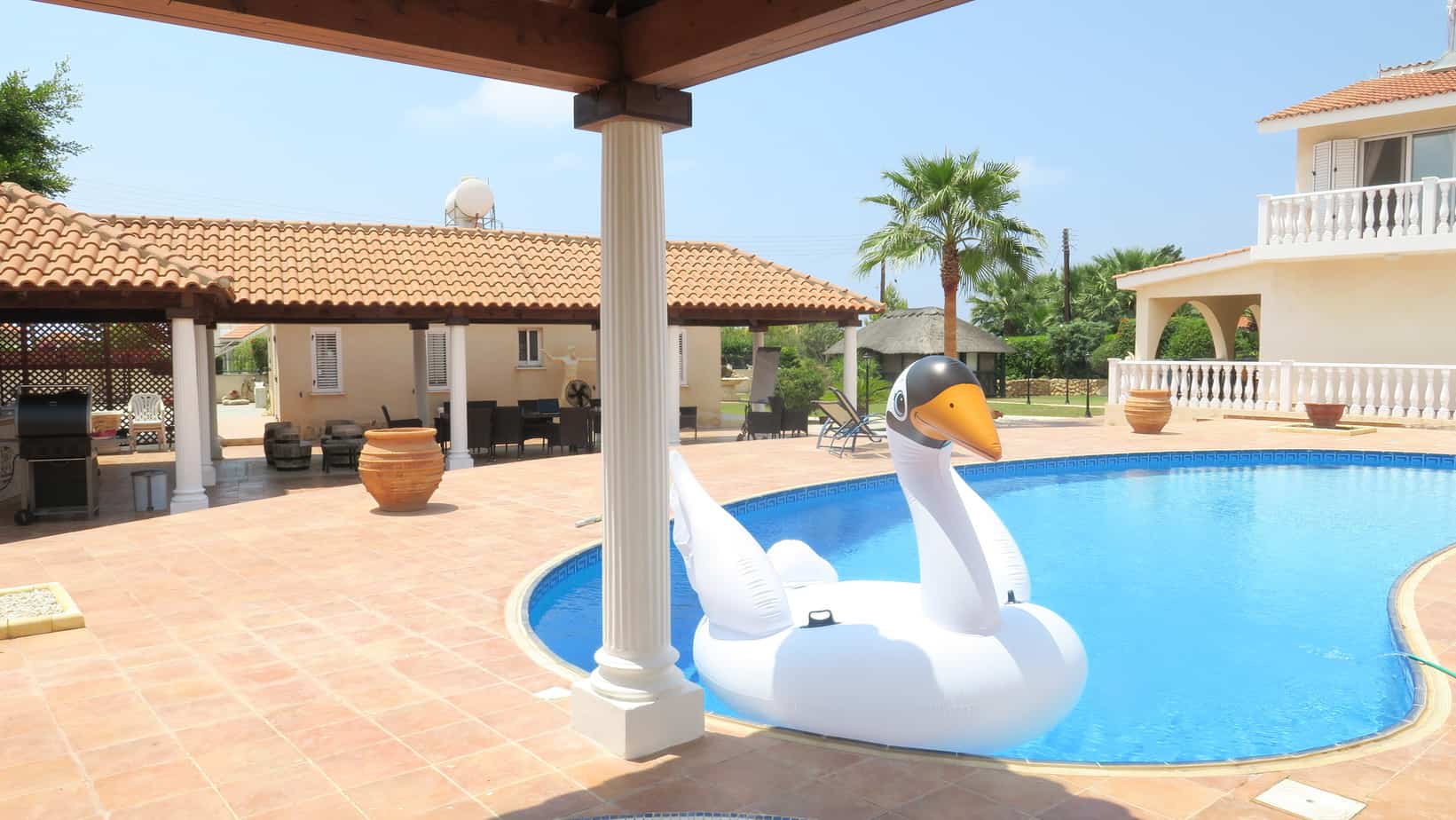 Transport links
Driving
If you are thinking about moving to Cyprus, my advice would be to buy a car, and rent while visiting the island. You absolutely need a car in Cyprus.
Travelling around the island using public transport can be limiting and getting yourself a car can be more cost effective and will give you an opportunity to explore.
Flights to & from Cyprus
It's easy to access, because there's direct flights to Cyprus from many different European cities.
The island has two major airports; Larnaca International Airport and Paphos International Airport. All of which have routine flights to mainland Europe, the United Kingdom, Russia, Israel, Lebanon and Jordan.
From Larnaca, there is also the possibility to fly to various other Middle Eastern countries including Egypt, Qatar, the United Arab Emirates, and Bahrain.
The shortest flight on offer from Cyprus to is Tel Aviv, Israel. A beautiful hotspot for short weekend breaks and to taste Middle Eastern culture with just a 45 minute flight.
Ferry to Cyprus
As well as numerous flight opportunities, Cyprus also has a ferry and cruise ship terminal at Limassol Port. There are currently plans in place for a ferry service between Cyprus and Greece to be restarted, meaning another link to mainland Europe from the island.
There are also plans to increase the number of cruise ships visiting the port during the upcoming months.
Bus & taxi
Across the country, there is a routine bus service which links the four cities, as well as multiple taxi services available across the island.
Taxi prices are quite expensive. If you don't want to rent a car, my advice would be to pre-book and agree on a price beforehand.
Cities in Cyprus – Which one is for you?
There are 4 main cities in Cyprus – Nicosia, Larnaca, Limassol and Paphos. All of which are unique in their own different way.
Here's a city guide in a table format to help you choose:
| City | Pros | Cons | Good for |
| --- | --- | --- | --- |
| Nicosia | Job opportunities, culture, big city. | Noisy, no sea, very hot summers, bad traffic, high pollution. | Career options. |
| Limassol | Best location, nightlife, Forex jobs. | Most expensive, beaches are not very nice, loads of traffic. | Singles, people in finance industry. |
| Larnaca | Beautiful beaches, cosy coastline, reasonable prices. | Quite touristy, less diverse nature. | Families, younger people. |
| Paphos | Lovely nature, least traffic, very affordable rental prices. | Slow in the winter, less developed. | Families, nature lovers, retirees. |
Fact-checked by local Cypriot.
Nicosia (Capital of Cyprus)
Being the capital, Nicosia is the largest of the 4 cities and where many large businesses have their headquarters and offices.
An interesting fact, Nicosia is the only capital in the world that is divided into two and has a 'Green Line' which separates the Greek and Turkish Cypriot areas. The city offers many cultural attractions, as well as large shopping areas and a good nightlife.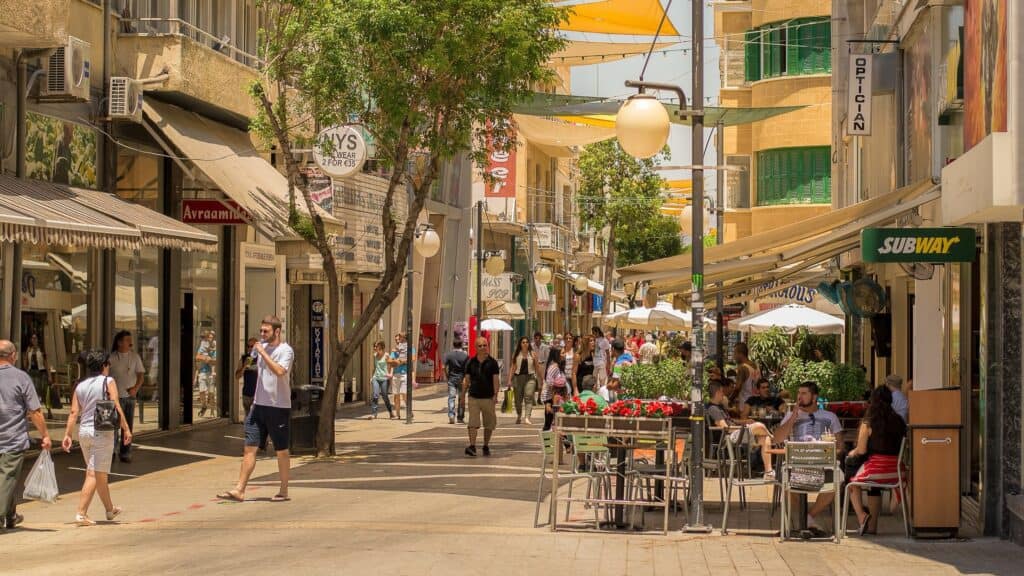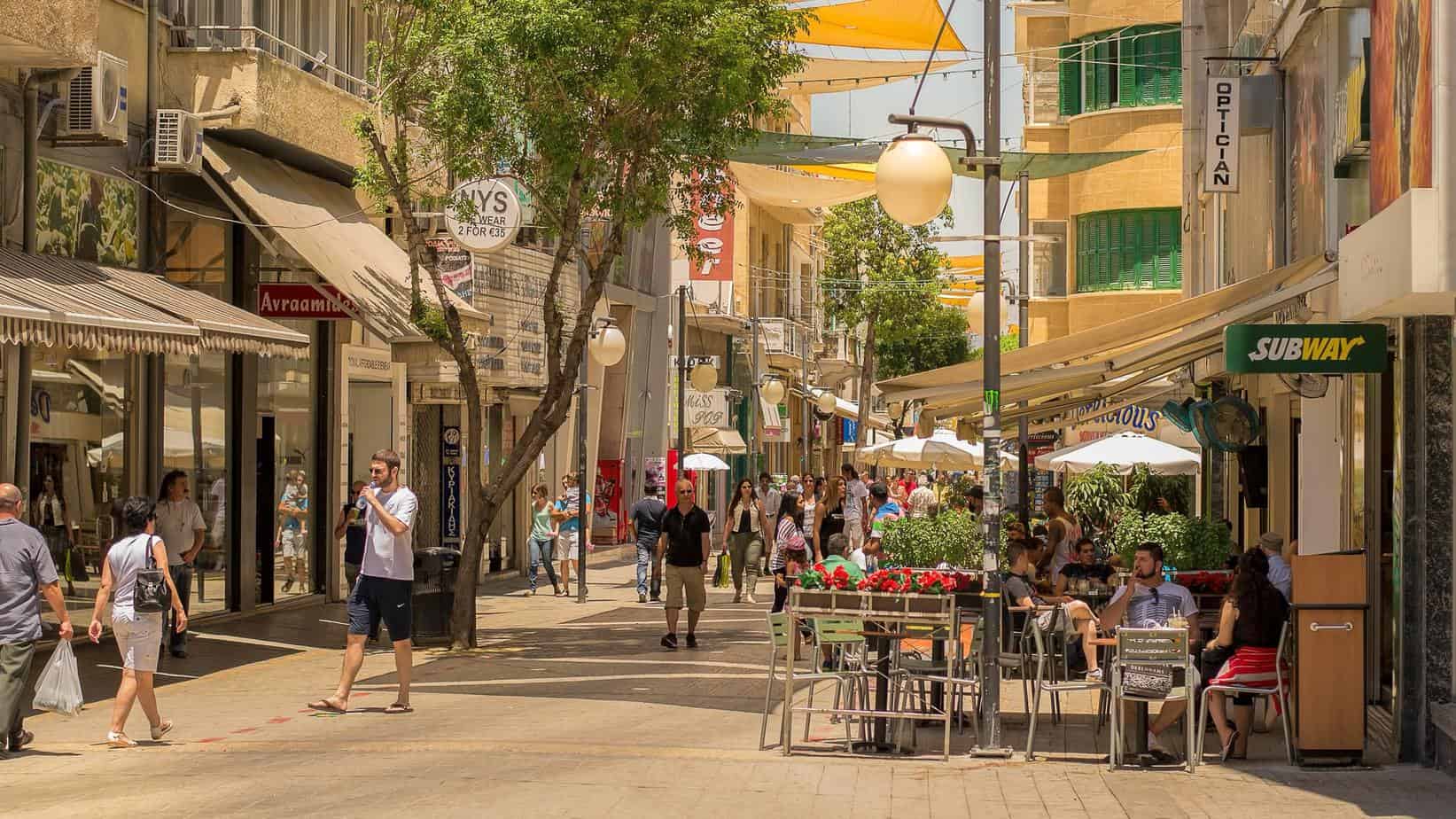 Larnaca
Larnaca is typically a tourist hotspot due to the international airport and its proximity to Ayia Napa, which is well known for its vibrant party scene and nightlife. Despite the hustle and bustle of tourism, the city offers beautiful golden beaches, good food and lots of culture!
If you are into diving, the Larnaca district offers many iconic diving sites such as the MS Zenobia wreckage site and multiple water-sporting opportunities.
Larnaca is one of the major nomad hotspots on the island and there are regular networking meetups organised for entrepreneurs.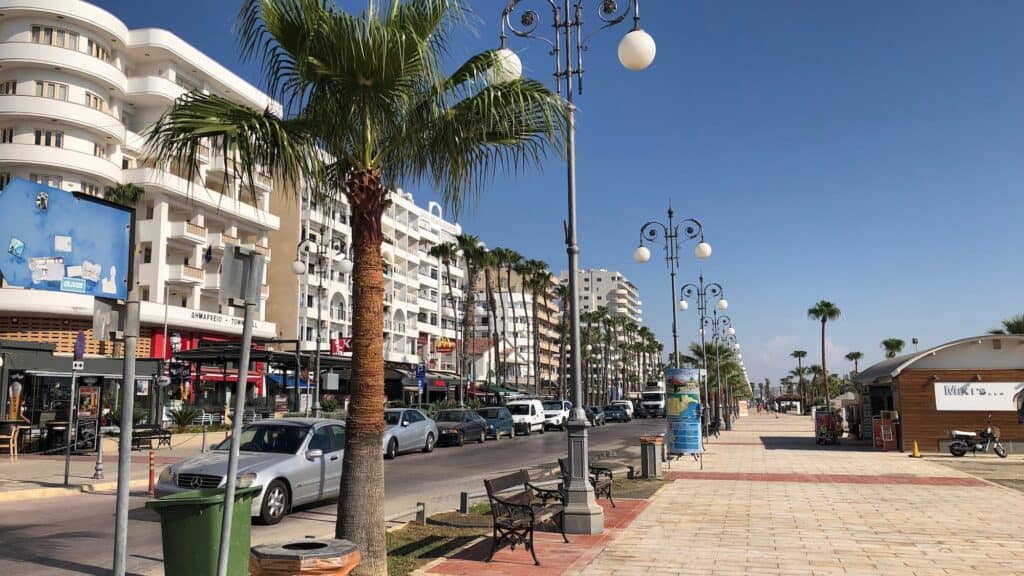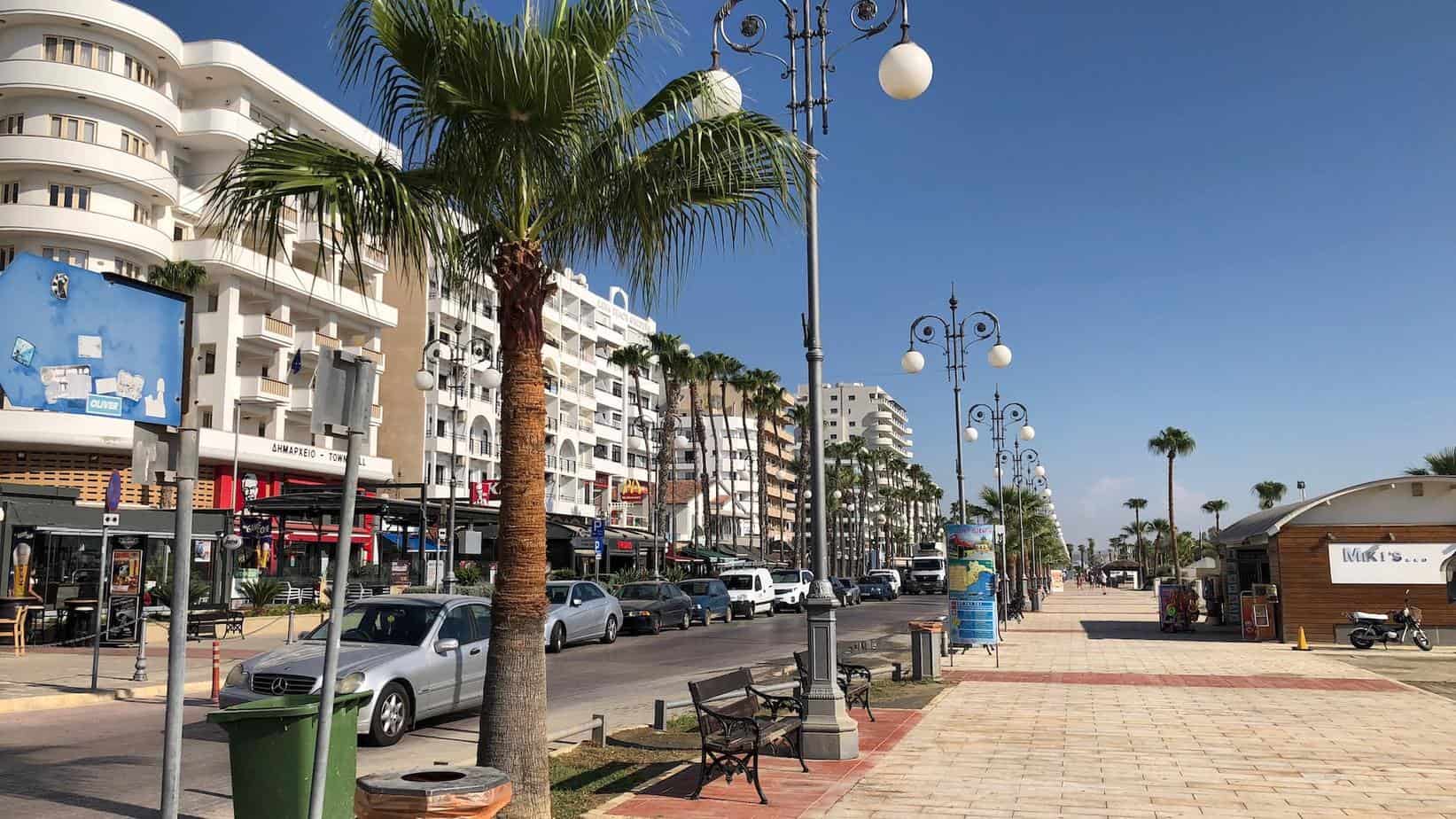 Limassol
Limassol is the second largest city on the island behind Nicosia. The city is located on the southern coast of the island and is well known for its large marina which hosts multiple restaurants, bars and shops. The city is also jam packed with culture, history, many museums and art galleries.
The city is home to many beautiful beaches with golden sands and clear waters. Some of the popular beaches in Limassol include the Governors beach, Ladys Mile beach and the Kourion beach.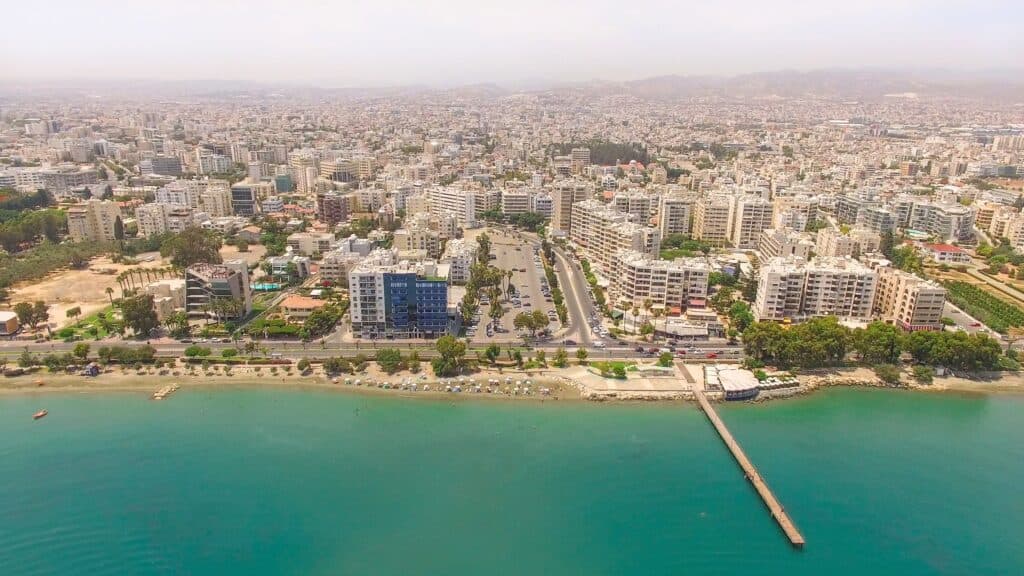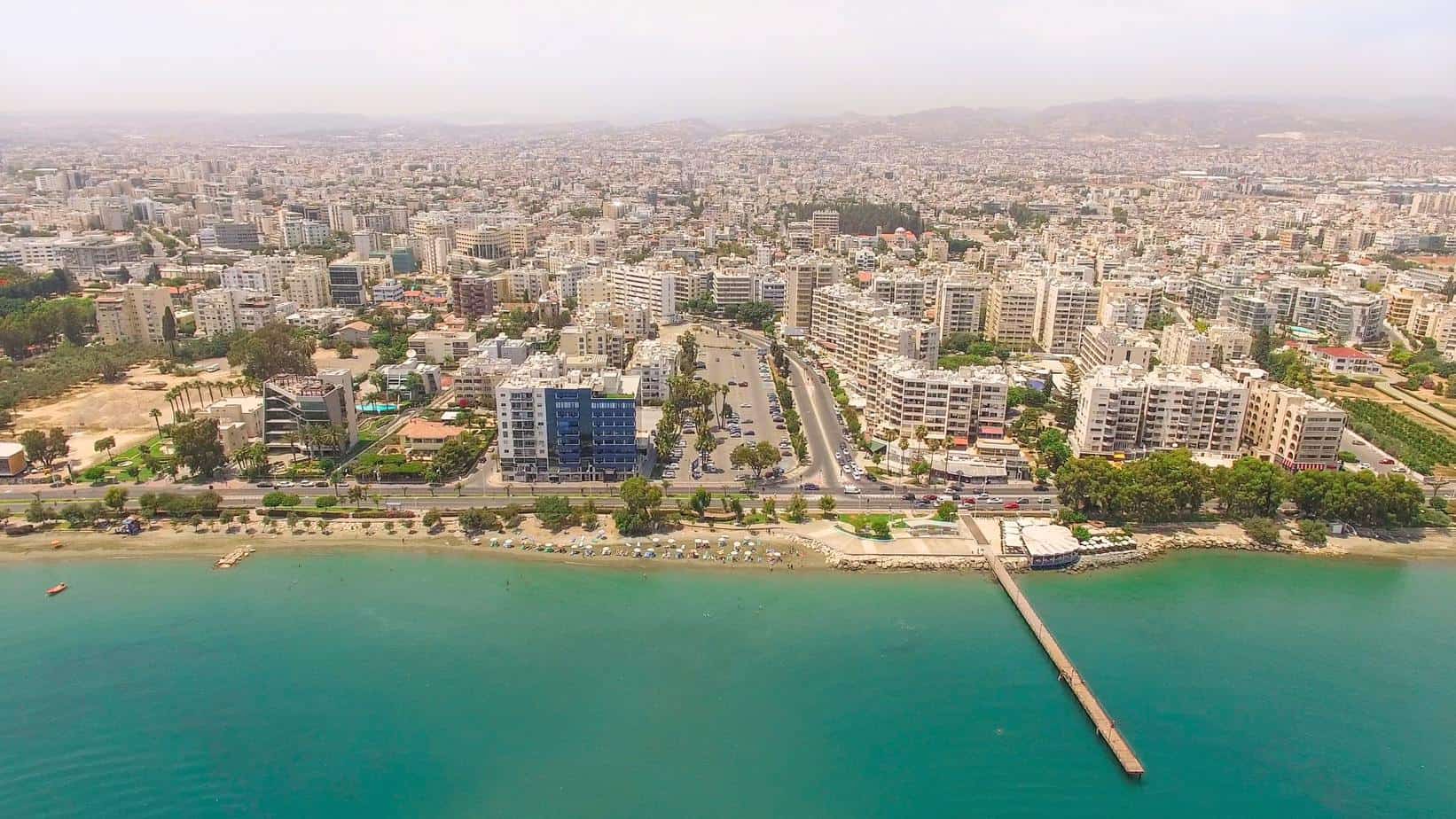 Paphos
Paphos, the smallest of the four cities, has a beautiful harbour which is full of restaurants and bars. There is also a large shopping mall and ample opportunities to endorse in the local history.
I decided to locate myself in Paphos region. When I moved to the island, I fell in love with the nature and spaciousness of the area.
There are also lot of affordable large villas, good transport links with Paphos airport and beautiful beaches to relax on.
Paphos region is the home to the Aphrodite's Rock, which is said to be the birthplace of the mythical Greek goddess of love and beauty. A must see for anyone living in Cyprus.
There is also the Tomb of the Kings. A World Heritage Site consisting of multiple underground tombs which date back to the early 4th century. Another perfect opportunity to soak up all the history which Cyprus has to offer.
Overall, the Paphos region offers a more of a relaxed atmosphere compared to the hustle and bustle of the other three cities. A perfect hotspot for anyone wanting to move to Cyprus in the hope of finding relaxation and a slower pace of life.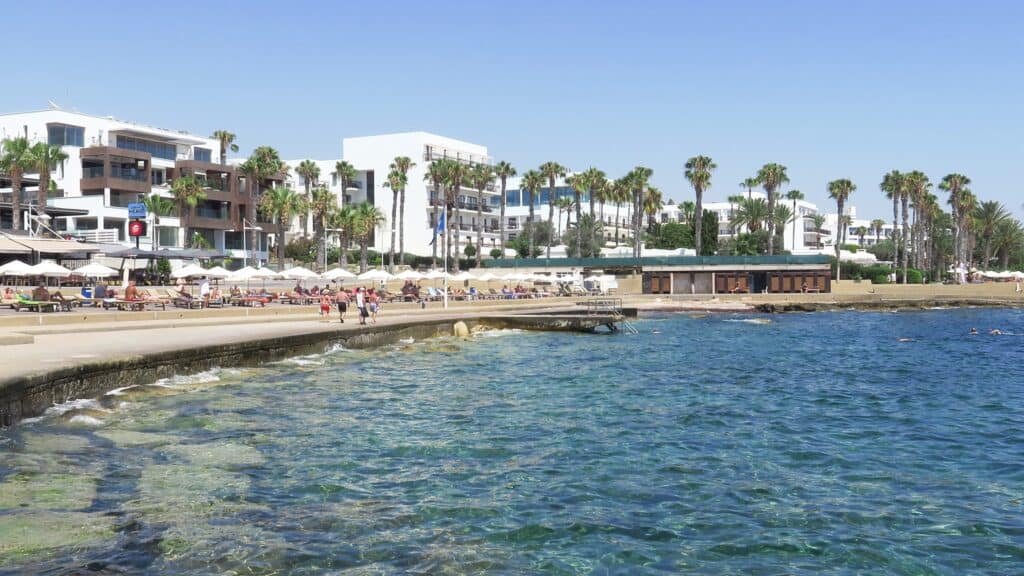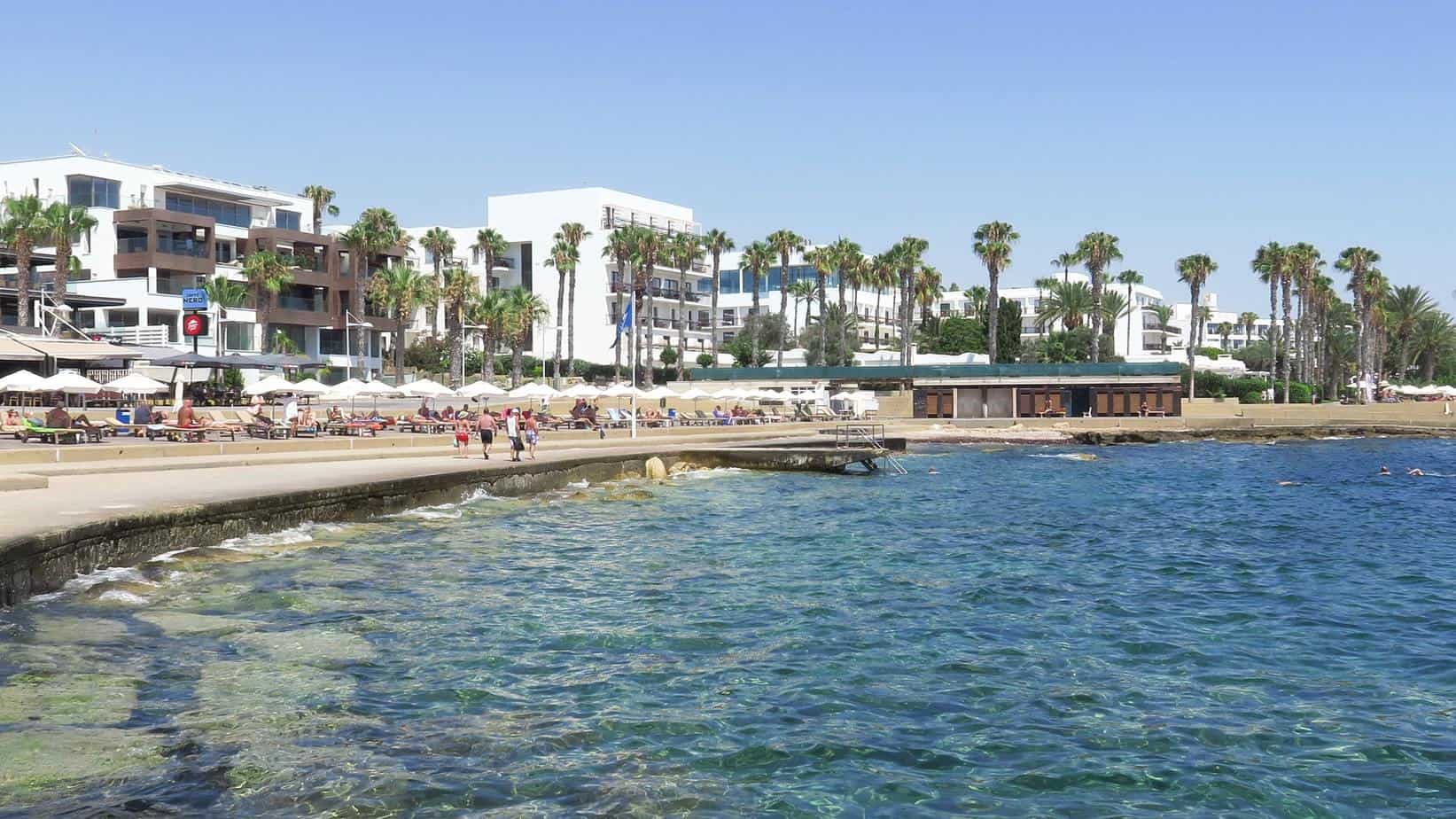 Popular activities to do in Cyprus
What to do in Cyprus?
Well, there's actually a lot of activities.
Here's some of my personal favorites:
Skiing at Troodos Mountain Range
Watersports and boat hire
Visiting Turtle Haven at Akamas
Tomb of the Kings in Paphos
Visit the 'Green Line' in Nicosia
Lots of restaurants, bars and nightclubs across the island
Entrepreneur & business community
Due to its low tax benefits, Cyprus is attracting more and more businesses and the entrepreneur community is rapidly growing.
There are weekly networking meetups both in Larnaca and Paphos creating an opportunity to mix with like-minded people who have moved to Cyprus.
I regularly attend the Paphos meetup (Blunchers) as it's a good opportunity to mix with like-minded business people living in the area. There are also regular coding and web development meet ups in Limassol and Nicosia (CyprusJS).
Across the island, there are also various co-working spaces where you can rent a desk, or even a whole office space, for a reasonable price. Depending on the size of your business, there are also office spaces that can be bought or rented in all the major cities.
Personally, I have an office space in Paphos, which is beautifully located in the Old Town and offers a great space for the team to collaborate and work together.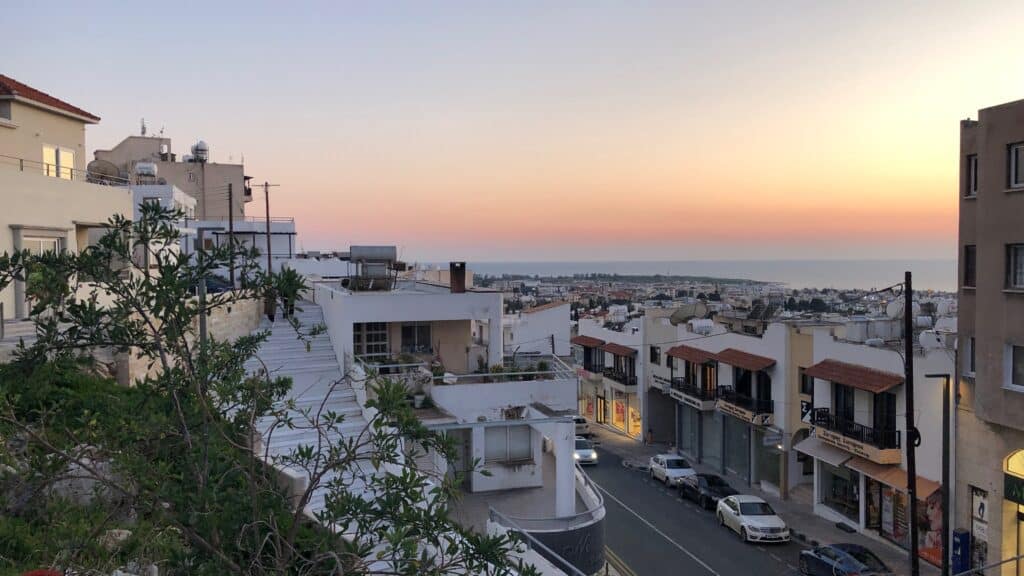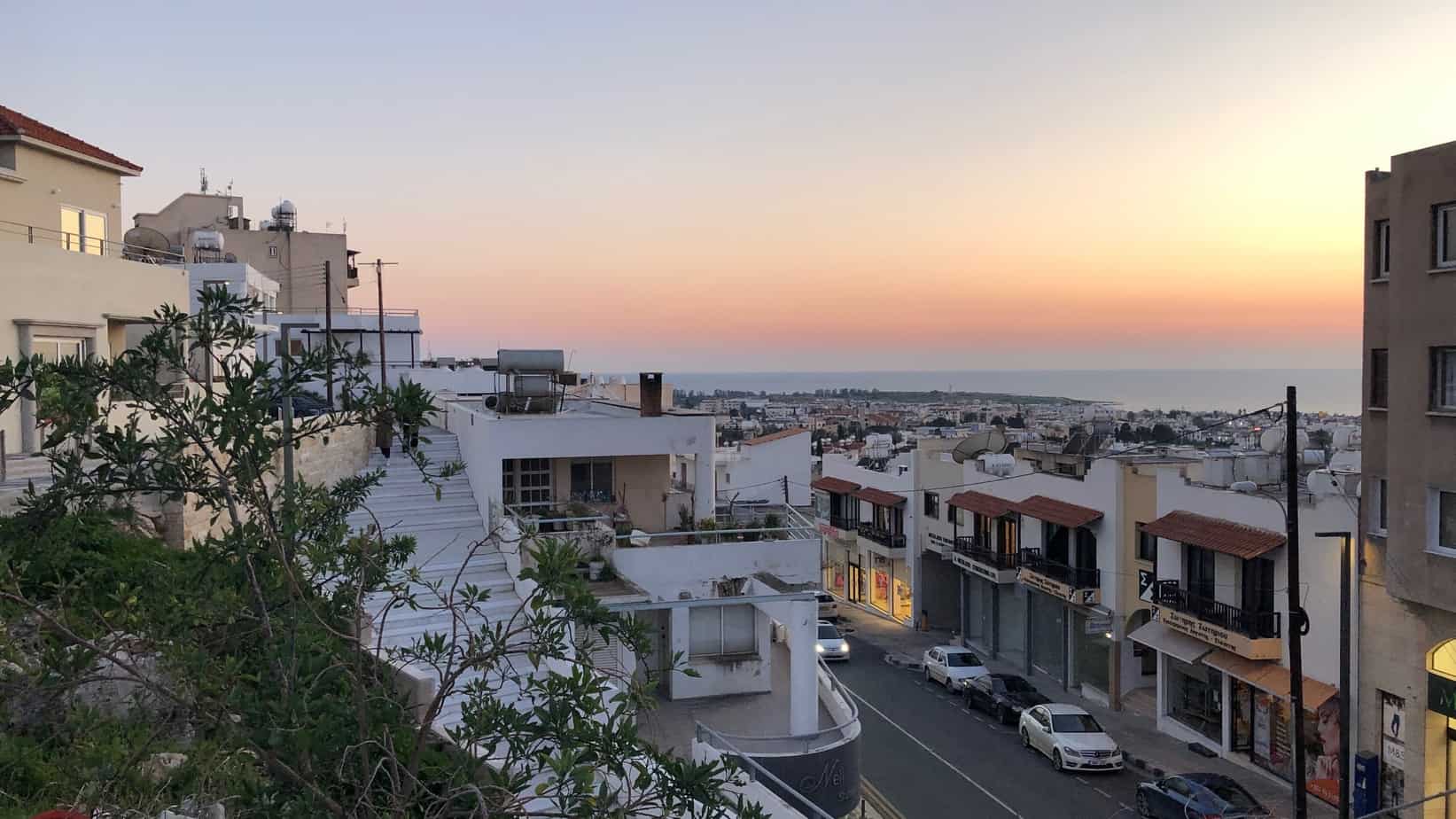 Become a resident of Cyprus
All EU-nationals can become tax residents of Cyprus pretty easily. Although the process can take a while, requirements to become resident are fairly low for EU citizens.
To legally become tax resident of Cyprus, you need to spend a minimum of 183 days per year here.
You can apply for tax residence after 60 days, but this is only if you're not a tax resident of another country, and don't spend more than 183 days in a specific country.
Third nationals can apply for different kinds of visas, depending on the intent of moving here. Student visas and temporary resident permits are the most common.
The country also offers a residence investment program. Under these programs, foreign entrepreneurs can live in Cyprus in return for an investment that can guarantee permanent residence or even citizenship.
Some people invest in Cyprus to attain a Cypriot passport, but since November 2020, this is no longer possible.
Setting up a company in Cyprus
As there are a lot of entrepreneurs moving to Cyprus, the country is seeing an increase in company setups.
Understandably since the tax pressure is really low and the cost of a running a business is affordable.
The corporate taxation in Malta (5%) is slightly lower compared to Cyprus (12.5%), so it's still more beneficial to own a Maltese company in terms of tax pressure.
However, Cyprus offers a few other benefits, and establishing a Cyprus company is quite straightforward.
If you are looking to set up a company in Cyprus and need legal contacts, I can help. Get in contact here.
Larnaca or Paphos as an entrepreneur?
The big entrepreneurial question when moving to Cyprus is whether to locate in Larnaca or Paphos. Ultimately, both cities offer great opportunities for entrepreneurs living in Cyprus.
Simply put, if you want hustle and bustle with a bit more going on – Larnaca would be my recommendation. If you want to move to Cyprus to relax, live in a huge villa, and have a slower pace of life, Paphos would be for you.
Larnaca
Larnaca International Airport offers routes to mainland Europe and the Middle East.
Coworking space iDesk.Space.
Vibrant nightlife and party scene, and is close to Protaras and Ayia Napa.
More concentrated, busy area with things going on.
Paphos
Coworking space Hugge coworking space.
Quieter area compared to Larnaca.
More diverse nature.
More culture and open spaces.
Internet access across the island
For any online entrepreneur, good internet access is a must.
Overall, the internet connection in Cyprus wouldn't make it to the top of the list. But high speeds are widely available, and certain areas do have fiber optic up to 1 Gbit.
According to Speedtest results from November 2019, the average download across the island is 26.68Mbps with the upload being 6.67Mbps.
From a mobile perspective, the average download is recorded at 45.09Mbps and upload being 15.95Mbps. Compared to Sweden or other European countries, the results are not great, but it is definitely workable.
It is reassuring to know that there has been progress made since the last speed test in 2017 and there is continuing work to develop the islands internet connection further.
There are also many internet cafes across the island and the majority of restaurants and bars offer free WiFi … ideal for digital nomads working in coffee shops!
Last week, I got a call from the main internet provider telling me that they'll upgrade my line to 1 Gbit Fiber. Only €35 per month.
Should you move to Cyprus?
Of course, this depends entirely on what you find important in life. Cyprus is definitely not for everyone.
Before you decide if you want to live here, I highly recommend that you spend a few weeks, up to a month, traveling around the island to get a good feel for it.
Common questions about Cyprus
I get a lot of questions about Cyprus, so I thought I'd add them here.
Can you really get 0% tax?
Almost. As a non-domicile, you can apply for a special tax certificate which will exempt you from paying taxes on dividends.
As you will be part of the health care system (GESY), you'll pay 2.5% from that.
Do locals speak English?
Overall, yes.
One of the benefits of Cyprus is that people here can communicate pretty decently in English. Not everyone is fluent, but most are good enough for everyday conversations.
How is it during the Covid-19 pandemic?
Cyprus had pretty tough measures, and there have been several lockdowns. During which, you would have to send an SMS to leave the house.
Overall, they have done pretty well with the pandemic. At the time of writing, they have vaccinated around 40% of the population (March 2021). Hopefully, restrictions will slowly be lifted.
Is it easy to find like-minded people?
Personally, I had no issue finding great people on the island. There's a lot of expats, digital nomads, business owners, and interesting people who moved here because they wanted something more out of life.
If you just moved here and want to get to know people, I recommend to attend meetups and join this Facebook group.
Downsides of living in Cyprus
We have talked about the upsides.
What about the downsides?
If there's any negative perspective of the island, it would probably be that Cyprus is in a sense a bit behind compared to most European countries.
Be prepared to live a bit of a village life.
In the end, things always works out, but the way there can be less than straight forward.
For example, you might need more patience when dealing with local authorities, banks and so on. Infrastructure is not very developed. You never know when things are open, you can't flush down paper in the toilet, things are chaotic.
That's just part of the charm for me. But if you want to live in a modern, structured society, Cyprus might not make it to the top of the list.
An additional downside, is that summers can be unbearably hot. It's very humid around the coastline with tempratures around 32C, and not uncommon for temperatures to reach 42-45C around the capital.
Conclusion
Cyprus is certainly not perfect, but it is an exotic little island, offering the stability of being inside the EU, good networking opportunities, low tax pressure and amazing weather for all the sun seeking entrepreneurs out there.
Moreover, the crime rate is very low, and it's one of the safest countries in the world. The island has stunning and very diverse nature, from everything to skiing in Troodos to relaxing on golden beaches.
Combine all this with a growing entrepreneur community and networking opportunities, it is easy to see why Cyprus is becoming a hotspot for online entrepreneurs.
If you're an entrepreneur and thinking about moving to Cyprus, let me know and we can grab a coffee.